Your Most Important Hire – Putting the Pieces Together
Most people have multiple advisors and professionals with whom they have relationships and from whom they purchase products and services. These are specialists in their area of expertise who rarely consider the "big picture" of your personal wealth.  This creates a problem by having all of the pieces of your financial wealth scattered and disjointed.  Instead of the financial products working together, they are often left to operate independently without any unity.
Your financial well-being deserves better.  As your Family Wealth Advisor, our firm will act as an intermediary for you by evaluating the recommendations of these specialists and how well they are performing for you.   In addition, our holistic planning approach will improve the overall performance of your financial plan.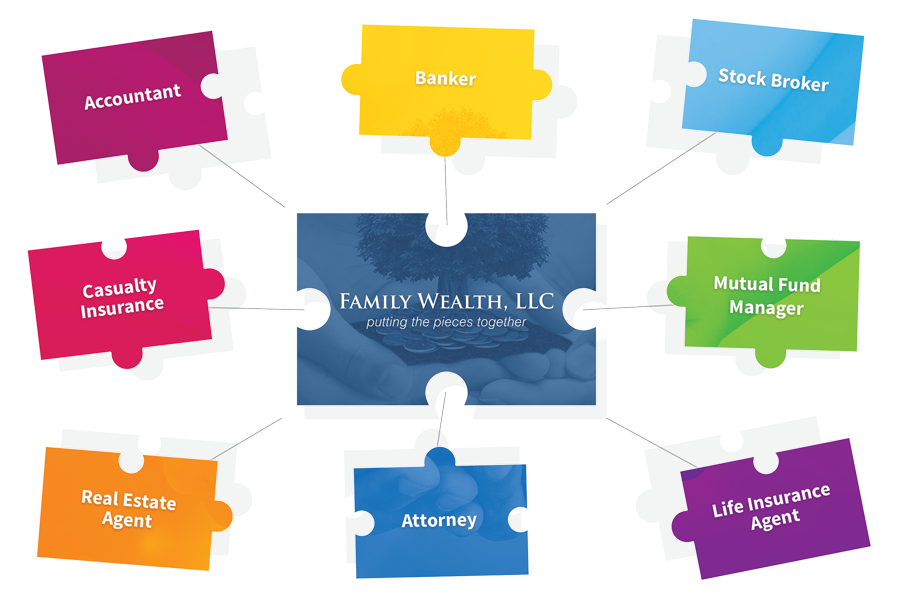 We Will Deliver Four Results to You
More $$$

You will have additional assets and income over your entire lifetime by using the tools and techniques that we will explain to you. There will be wealth building, wealth distribution and wealth transfer tools and techniques that we will show you how to implement to create additional wealth for you and your family.

No Additional Cost

We will show you how to have these additional assets and income without any additional costs on your part. The costs you have now will be quantified and we will show you how to lower them by using more efficient tools and techniques in all three Seasons of your life. Our first job is to show you how to have additional wealth without additional costs. We will show you how to improve what you presently have and how to use your assets and income to produce more wealth.

Better Protection

Protecting your assets and income is critical in all three Seasons of your life and is the "partner" to building and distributing your wealth. Maximum protection of your assets, income, and life is the goal and to do it at the minimum cost. We will show you how to maximize the protection of your assets, income, and human life value. We will make the protection of these more effective to do the job you want them to do and show you how to significantly improve this protection for the future.

Mathematically Verifiable

We will use financial calculators to measure the true costs of any financial product or financial strategy. There are costs to protect your wealth, to build it, and to distribute it during retirement. We will measure and quantify these costs accurately so that you can compare the results and costs of any strategies we discuss.
Your overall financial strategy should be integrated, coordinated, organized and proactively managed.
As your family wealth manager, we will ensure that all the pieces of your overall financial plan work together seamlessly to deliver the value and benefits you deserve.